Padel court specifications: how is a padel field made?
Pubblished 29.06.2022
| Last updated 05.09.2023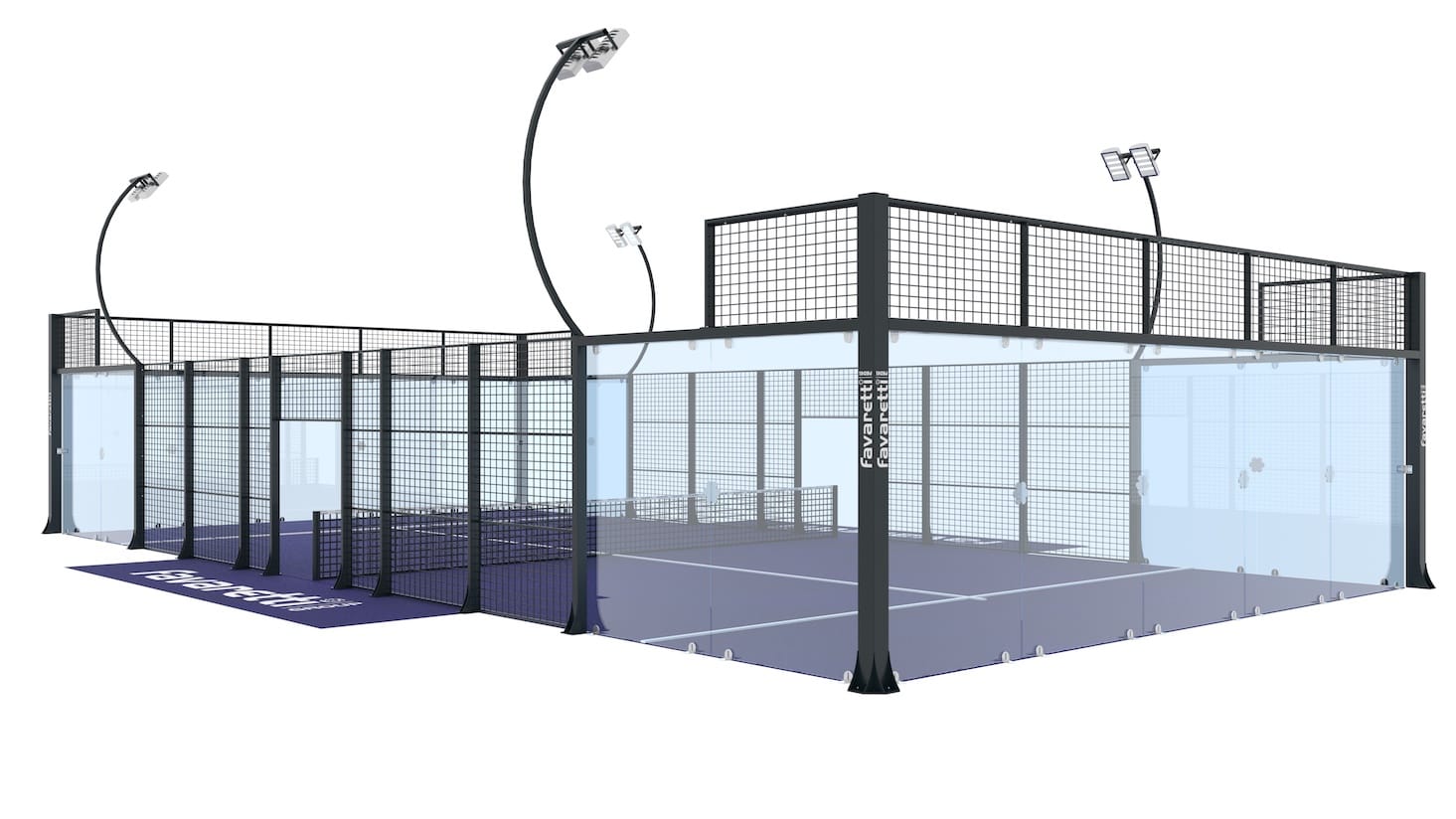 Padel is becoming more and more popular, achieving its own importance as a discipline: it is no longer considered as the "sport that is similar to tennis" anymore, a definition that might have been given to padel some time ago.
However, above all for those who do not know padel and its rules very well, the comparison with tennis is still present and some might wrongly think that the fields used to play are comparable in both disciplines. So wrong! Padel has its own peculiarities and rules that are very different from those of tennis, and all this is reflected also in the features of the padel field.
So, let's see how a padel field is made describing its peculiarities, from measures to the materials used for the turf, the walls, and all the other elements that compose it.
Size of padel court
As we have already said in a previous article, a padel court is smaller than a tennis court, which usually measures 18x36 meters, while a padel filed measures 10x20 meters. The rectangular field is divided into two parts by a net and, parallel to the net, there are the service lines, positioned at a distance of 6.95 meters on both sides. Moreover, in each field there is a central service line that divides the field perpendicularly to the net.
Padel turf
Let's deal with the turf, its choice being fundamental to ensure excellent playing performances. Until the Federation decide to intervene in this matter, the floor must be realized with synthetic grass and silica sand infill (from 10 to 15 kg/mq depending on the type of model). On the market you can find different types of turfs that have been especially conceived for padel: from the traditional fibrillated turf to high-performance, textured turfs.
The most popular color is blue, but you can easily find also green or red turfs. If you what to dare, you might opt for black, pink, purple… there is a color for all tastes!
Padel net hight
The net of a padel court must have a length of 10 meters and a height ranging from 0.88 m in the center to 0.92 m at the ends, with a maximum tolerance of 0.5 cm. The meshes that compose it are made of synthetic fiber and must have a size that prevents the ball from passing through them.
Padel walls: rules and materials
Walls are one of the distinguishing features of a padel court: they surround all the perimeter and serve the progress of game, since the ball can bounce against them.
In addition to the metal mesh side walls, the backcourt is made with glass plates specially designed to withstand the inevitable impacts that the game involves! It is very important to remember that the products used must be of the highest quality and certified to ensure the full safety of users.
The entire structure (supporting frame in steel and glasses) must absolutely be designed in compliance with the Italian construction legislation NTC2018 and built by qualified processing centers. An uncertified padel court exposes players and managers/owners to enormous dangers.
Would you like to have more specific infos about padel courts? Contact us!