Indoor padel: advantages and peculiarities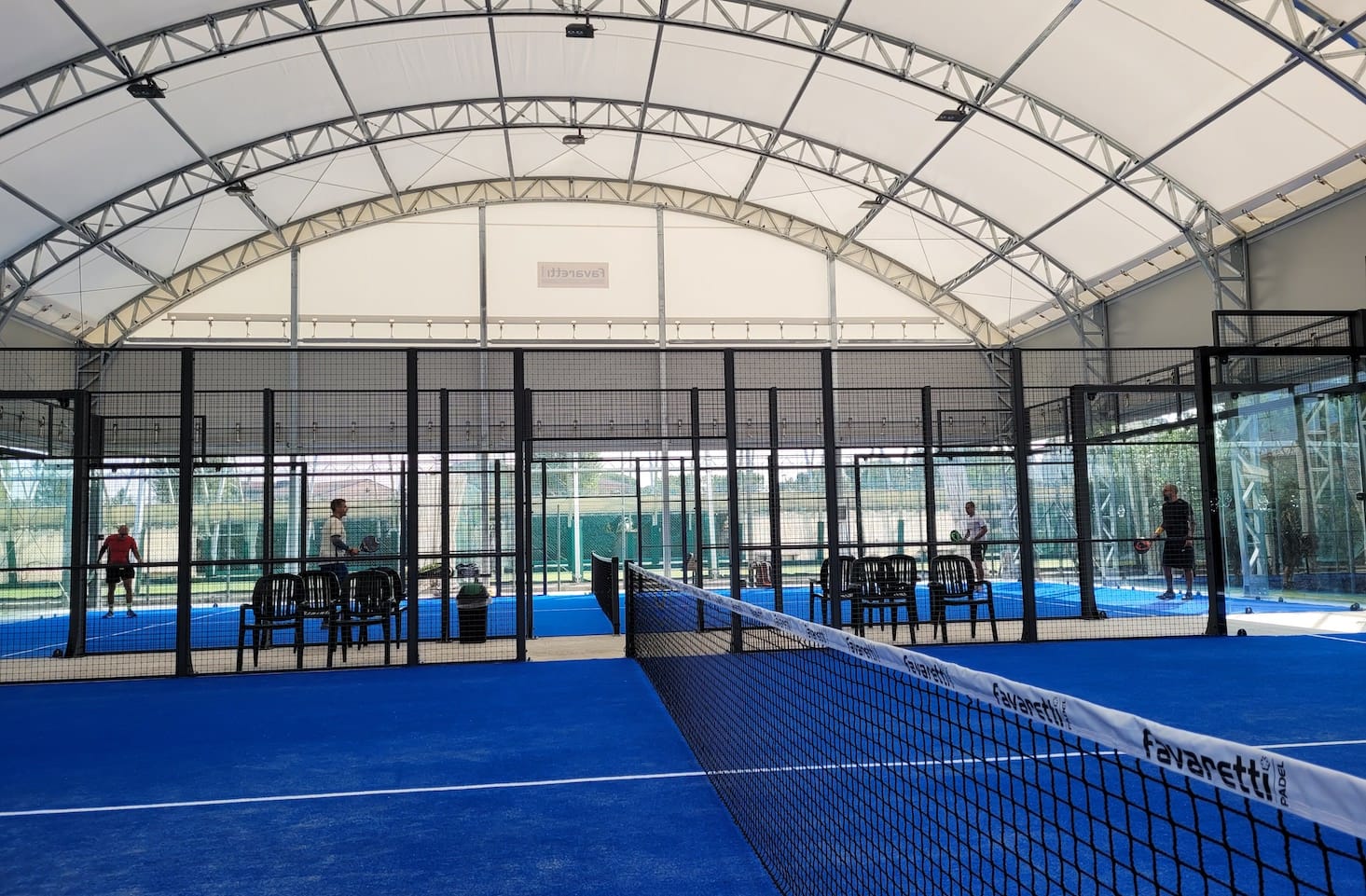 Passion for padel is ever-growing, as we have already highlighted, and it will not stop no matter the season. As the first cold days arrive, the search for indoor plants where to play padel without any interruptions or problems due to bad weather increases. Indoor plants definitely have some advantages if compared to outdoor fields, but this is not only true in winter. No wonder that, along with padel plants in general, indoor structures are increasing in Italy: according to mrpadelpaddle.com, indeed, there are over 6,600 fields in Italy and 2,027 of them are covered fields, a strong growth considering the 1,100 fields registered in October 2021.
In this article we will try to better analyze the differences between indoor and outdoor padel and the advantages of both.
Indoor or outdoor padel?
Padel is a discipline that can be done both indoor and outdoor. Each option has advantages and disadvantages from the point of view of both fields managers and players.
Let's start from the costs that managers have to face: building an outdoor structure usually requires a smaller investment, but if you think long-term, an indoor field might be more profitable. If you consider that in Italy you have over 80 days of rain a year, and that in those conditions outdoor fields are not used, it is easy to understand why, from this point of view, indoor fields are more advantageous. Moreover, you need to keep in mind that, after heavy rain, the field might not be immediately ready to be used due to wet turf, which would result in the loss of other hours or days of possible use. All this has another consequence: not guaranteeing continuity of play, especially in autumn and winter (but also in the hottest months), can compromise customers' loyalty, a very important factor especially for a relatively new discipline such as padel.
Another aspect you need to consider when you manage a padel field is given by management costs: on the one hand it is true that an indoor field leads to expenses for heating or conditioning systems (however they are not compulsory, especially in South Italy); on the other hand, you should not forget that a cover court usually keeps better as it is not affected by atmospheric agents.
It is up to managers to decide whether they want to spare in the building phase or if they want to opt for a long-term investment. Remember that if you opt for a tensile structure instead of a masonry building, you will have many advantages:
much easier permissions;

light foundations;

much lower costs;

almost immediate installation times;

dozens of accessories to embellish the arena;

full design freedom (widths > 60 m).
Choosing to install a tensile structure by Favaretti means having all the advantages of an indoor structure along with a light, inexpensive, and flexible structure with dozens of accessories at your disposal.
It is important to highlight that tensile structures, just like any other building, have to be designed in compliance with NTC2018 (technical construction standards) as far as resistance to snow, wind and earthquake loads are considered, and that they must be supplied with a calculation report signed by a qualified engineer. It happens very often to see padel field covering structure that have been designed as if they were temporary or traveling structures, which cannot withstand wind nor snow. A choice like this, made only because costs are lower, to the detriment of users' safety, cannot but cause problems to the club and to the manager.
Differences between indoor and outdoor fields: covered field height
Before we look into the advantages of indoor and outdoor padel, it is useful to remind that there are no differences between the two variants from the point of view of playing regulations, which are the same in both cases. A rule that needs to be respected, and that we obviously find only in indoor and not in outdoor padel, concerns the height of the field, which must be at least 7 meters in the centre (6 meters on the sides).
Padel indoor: advantages and disadvantages
Atmospheric factors
Let's see the specific advantages of indoor padel. The first one that comes to our mind certainly concerns the possibility to play without the problems caused by hostile weather conditions. Rain, first of all, as it prevents you from playing, but that's not all: as in tennis, wind can influence the trajectory of the ball, which makes exchanges more difficult. Also the typical humidity of mid-seasons seriously limits the use of a padel field: the fogged glass and the damp turf that weighs down the ball make it impossible to play. A players' enemy is certainly cold, which doesn't make you want to play when it gets really sharp, but also heat can be a no less powerful deterrent: with hot summer temperatures playing outdoor might be difficult.
To sum up, if it is true that playing outdoor might be very pleasant when weather conditions are favorable, it is also true that an indoor court allows us to play always and without interruptions, with continuity and anytime we want to. At the same time, choosing to install a covering allows club mangers to give continuity to their work 365 days a year.
Game and strategy
Playing in an open or closed structure can have consequences also in the way you play, especially as far as "lobs" are concerned. Playing outdoor you do not have limits in terms of height, and this might make lobs easier. On the other side, the sun on the field might be an obstacle, a problem that does not exist in an indoor filed with an artificial lighting system designed in the proper way.
Types of indoor fields
As we have already said, building an indoor filed means to choose between a masonry or a tensile structure. Favaretti Group can follow you in each phase of the building of a complete padel court, from the feasibility analysis to accessories, suggesting the best solution for your club.